Investing in Rebuy: Supercharging E-Commerce Sales with AI-Powered Recommendations
M13 is leading the $17M Series A for Rebuy, a data-driven personalization platform helping e-commerce brands maximize cart values.
Perhaps one of Amazon's most underrated products is its personalized recommendations. While it flies under the radar, this product is everywhere. On users' Amazon home pages, on individual product pages, when users add items to their carts, on order confirmation pages, and so on. It appears as "Products related to items in your cart," "Customers who bought this item also bought," and "Frequently bought together," as a seamlessly integrated part of the shopping experience.

Tremendous value is driven by this one product: about 35% of marketplace sales, or a whopping $150B in incremental revenue on the Amazon platform, based on 2022 revenue (excluding the AWS segment).

Enter a pair of brother co-founders who spotted this trend sooner than most—and built a product to help e-commerce brands achieve the same incremental sales uplift on their own site.

In 2010, John and James Erck co-founded a design and development agency for Shopify brands called After Market. Leveraging their backgrounds in software engineering, they began to design Shopify sites and build custom apps for their clients. One request continued to rise to the top of their customers' wishlists: creating personalized recommendations based on the consumer's individual buying habits. Understanding the value creation from industry giants like Amazon, the Ercks co-founded Rebuy to deliver personalized recommendations to the Shopify ecosystem.

Rebuy's software helps brands generate additional e-commerce revenue via online storefront experiences tailored to the individual shopper. Rebuy collects and analyzes customer data across commerce platforms, including data on past customer behavior. This feeds its AI engine, which intelligently predicts customer intent and personalizes the digital storefront with relevant upsells, cross-sells, and automated ordering.

In just a few years, Rebuy has established itself as the category leader for personalization and product recommendations on Shopify, building out a diverse customer base of 3,000+ merchants. Rebuy has developed a robust roster of customers (including Magic Spoon, Liquid Death, Feastables, and Patagonia) and integration partners (such as Klaviyo, Recharge and Attentive) to support merchants' growth.

The strength of Rebuy's ecosystem became clear as we spoke with brands and partners during our investment process. We were struck by the brand affinity Rebuy has created and the quality of experience cited by merchants. That's not to mention the immediate ROI brands see when they add the Rebuy app to their storefront.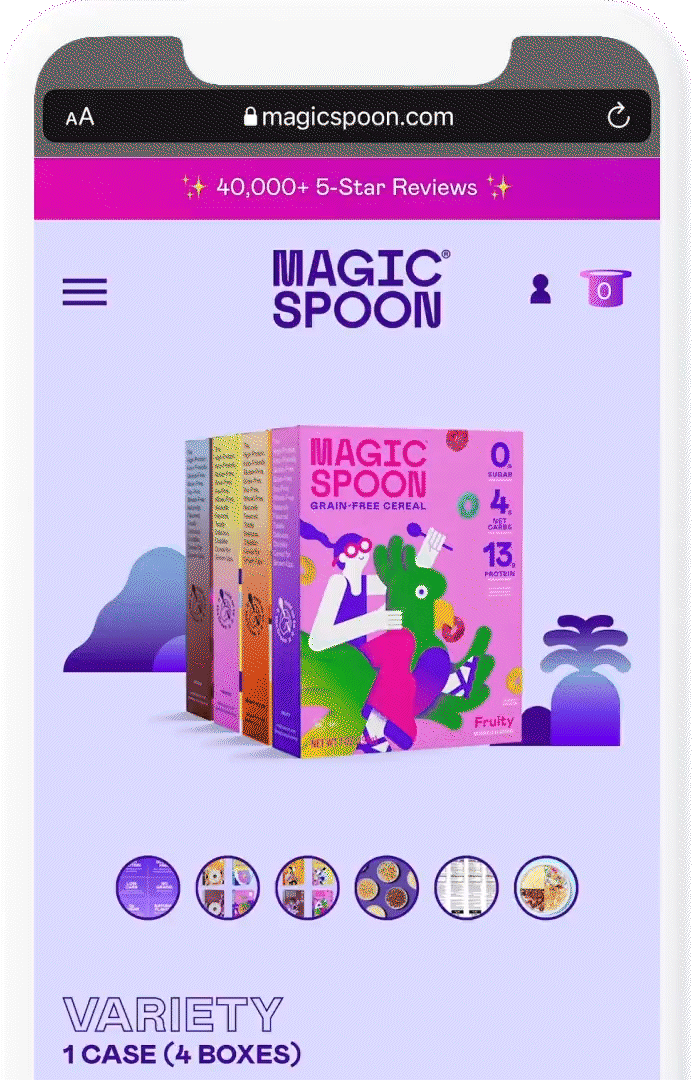 Rebuy's Smart Cart provides a personalized experience, prompting a Magic Spoon customer with upsell products, discounts, subscriptions, and other perks in a dynamic checkout.
Recent privacy changes (like Apple's IDFA changes and Google's deprecation of the cookie tracking system) have made it more difficult for e-commerce merchants to accurately track customer behavior across digital formats. Customer acquisition has become more costly, and brands have become increasingly focused on maximizing every customer encounter on site, in order to improve conversion and customer value.
That's where Rebuy comes in: increasing average order value and conversion rates to help merchants drive positive unit economics.
Rebuy client Snow Teeth Whitening pairs a fully loaded Smart Cart with merchandising throughout the customer journey, from pop-up upsells in shoppers' carts to cross-sells at checkout.
M13 is excited to lead Rebuy's $17M Series A round, with an incredible investor syndicate joining us—including Peterson Ventures, Sidekick Partners, R Squared Ventures (Roy Rubin, former CEO of Magento), Dynamism Capital, and strategic angels like Ben Jabbawy (former Founder of Privy) and Nik Sharma.
AI-driven personalized recommendations have the power to skyrocket sales, and we look forward to partnering with the Rebuy team to make this a reality for all e-commerce and retail brands.
Welcome to the M13 family!